Parish Priest
---
Fr Joseph Figurado is the Parish Priest of All Saints Blackbutt South
Fr Joseph Figurado's Story
Story of a Fisherman's Son
.........................
Father Joseph hails from a poverty-stricken fishing family in Mannar, Pallimunai, a small fishing village with nearly 1900 Catholic Families. He grew up surrounded by the ethnic war that ravaged the country for more than 35 years. He remembers as a young boy being forced to leave his home after a massive attack to go to a refugee camp. As he walked with his parents, shells fell around them. His siblings were holding hands but were thrown away by force. His brother died during that bloody war.
The Figurado family were in the refugee camp for nearly 2 years. His father was a fisherman, and Joseph would join him each day. His mother wanted him to study, so he joined the refugee camp school run by the clergy. The school was under trees, and every morning all the boys would stand straight in line for roll call and pray for rain — because that would mean lessons would be cancelled, in fact, which happened very often! War was all around and people were dying in the places surrounding the camp. Most of the burials took place in the Shrine graveyard. However, through the family's hardship, they did not lose their Faith. Most of the time, they lived in darkness, without the necessity of light. Even when they had no water, electricity, or candles and not much food, the family prayed together, especially holy rosary in the evenings. Fr Joseph remembers his mum saying: "Before we were eating for taste — now we are eating for hunger."
The refugee camp was managed and run by UNHCR "United Nations High Commission for Refugees" this was the first long English sentence Fr. Joseph memorized. Our Lady of Madhu is a National Marian Shrine of the Diocese of Mannar and the refugees camp was around this Shrine Vicinity covering more than fifty acres. It was at this time Fr Joseph heard the call to become a priest. Fr Joseph was an altar boy, and a thought kept coming to him, "why can't I also be a priest?" At only 16 years of age and knowing no English, he joined the Minor Seminary, then joined St Patrick's College in Northern Sri Lanka in 1991.
It was still a fierce time of war, and as he walked to school, the sound of artillery launches would reach him and his friends. Bunkers on the side of the road protected them from the shells and debris that would fall. "I saw plenty of death," he says. There had been many occasions that we collected remains of bodies in sacks. Still more trauma came to Fr Joseph when a tsunami hit Sri Lanka in 2004. He took immediate supplies and assistance to the scene the following day to the Eastern Part of Sri Lanka. When Fr Joseph speaks of these experiences, he shares his unshakable Faith. "Through all the calamities, my Faith was strengthened," he says. "Some lose their Faith in these situations. We didn't. My family's Faith, my parent's Faith, stayed strong and guided and kept us strong."
In 2006, in a time of war, Fr Joseph became a priest, and worked in Sri Lanka for 10 years. He ministered in different languages, and would be asked, "Is there a God?" as the ethnic war reignited in 2008-2009. Though he did not give them a satisfying answer to those questions in a time of war, he was able to show them that he was with them, smiling, laughing, eating, most of the time, crying with them and comforting them.
In 2017, Fr Joseph came to Australia and is now happily serving as Parish Priest of All Saints Blackbutt South for six years, from 1 March 2021 to 28th February 2027, by the decree of the VG of the Diocese of Maitland and Newcastle.
No one would know of the tragedy that has filled his life because his motto is "humble service with a smile". He is more concerned that others would never feel the suffering he experienced. More careful not to pass that one to others.
He wants to share with all young people that regardless of their situations, they can come through and "shine" like him, with the power of Jesus. He says, "Let us make our Faith a strong pillar, our hope and Prayers our wings, let us have God's love and compassion as our wind below our wings, then we can hover and soar over all kinds of hurdles in our life.
Contact Father Figurado
Phone
0438 769 922
Email
Joseph.Figurado@mn.catholic.org.au
---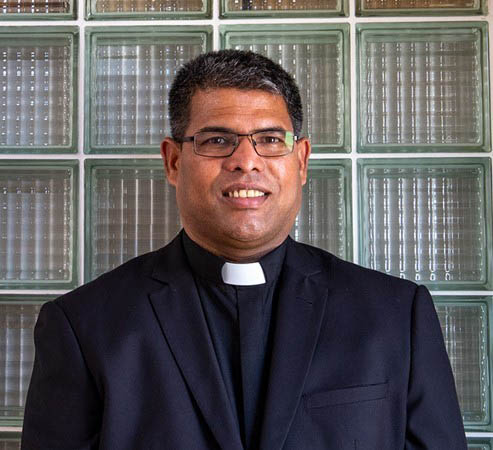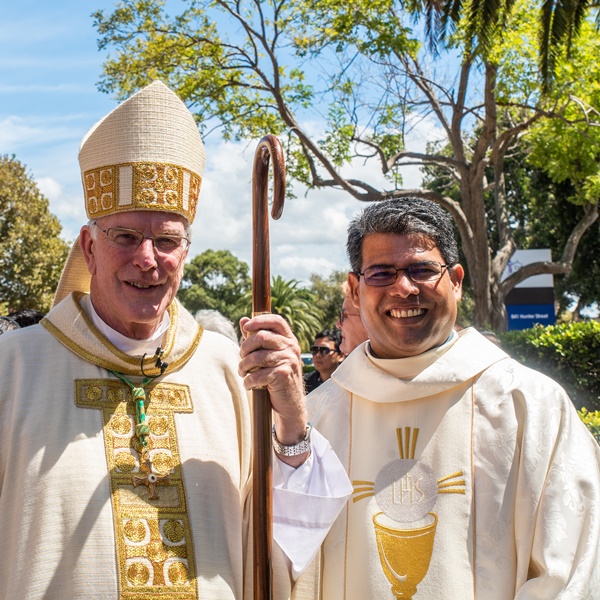 "But whoever wishes to be great among you must be your servant, and whoever wishes to be first among you must be your slave; just as the Son of Man came not to be served but to serve, and to give his life a ransom for many." (Matt 20:26-28)